DINKUM DINING
---
Feast on the Finke
The toss of a coin 72 years ago by two Melbourne artists provided the inspiration for OUTBACK's nomadic chef Adrian Millman to visit the red centre to cook some traditional bush tucker.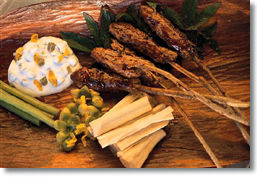 In 1928 two western Victorian painters fresh from art school, John Gardner and Rex Batterby, vowed to expand their canvas horizons.
But they couldn't agree on a destination.
Like most academic artists of their ere, one wanted to travel to Europe, while the other was set on breaking new ground and recording the hues and textures of outback Australia.
At the time few artists had ventured into the inhospitable heartland, preferring to work with a softer and predictable coastal palette.
The coin landed tails, the outback was their destination and the pair set off in a T model Ford , nicknamed Henrietta.
It was a daunting challenge. Roads were non-existent in places and they shuddered over gibber stone wastelands, ploughed across flood plains and through sand drifts.
A primitive winch system was as important as their brushes and paints.
Their first attempt to reach the centre via western Queensland failed and 15 months after embarking on their journey they were back in Melbourne.
But not before they had both become fascinated with outback landscapes.
Their renditions of the virtually unknown outback led to successful exhibitions and in 1932 they stocked up henrietta again and headed north, this time through South Australia.
As they travelled Gardner kept meticulous accounts of their experiences.
His humorous, illuminating and touching diaries form the wellspring of his biography by Kaye Dowdy, A Vagabond and his Easel.
The pair painted their way north through to Alice Springs and then 140 km weest to Hermansburg.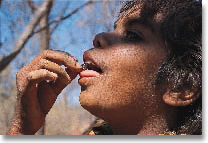 Adrian's recipe
Mini roo tails with sliced yoghurt
Mince kangaroo to a fine texture and lightly season.
Mould mince onto sticks
Chargrill and serve with refreshing spiced yoghurt.
To make yoghurt
Bring milk to the boil and boil for 3-4 minutes. remove from heat and cover saucepan. Allow to cool to blood temperature and beat in starter yoghurt, which can be any plain, shop-bought yoghurt.
Allow about 100 ml (4 fl oz) to 1.2 litres (2 pints) milk. Then allow the milk to cool to blood temperature. This is essential, otherwise the yoghurt bacteria will be killed off.
Beat the yoghurt in well, cover saucepan and place in a warm position to maintain blood heat. After 12 hours, the milk will turn into yoghurt.
Note: yoghurt can be used to seed 6-7 new batches of yoghurt.
Add thinly sliced water lily and rosella plant petals. Serve with steamed sand palm and water lillies.
These bush additives can be obtained from Litchfield Bush Foods, PO Box 41553, Casuarina, NT 0810.

Full story Issue 9, February/March 2000